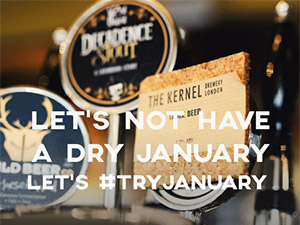 Once the festive celebrations have died down and those credit card bills come through the letterbox after the New Year has been ushered in with a cavalcade of frivolity, many people embark on a month long process of reflection and detox known as Dry January.
Well this time – January is only twelve days away! – many within the pub and restaurant trade are hoping that a new campaign will take over from Dry January and gently guide people into trying new dishes.
Instead of abstinence, the industry wants people to get experimental in what they are calling Try January.
"January, historically, has been a quiet month for pubs and many people use it as a time to reduce their spending as well as their intake," explains The Publican's Morning Advertiser editor Rob Willock.
"But this means that people write off visiting their local pubs."
And so the 'Try January' campaign suggests for publicans, restaurateurs and chefs alike to alternate their menu and offer a number of drinks and dishes and offer a number of timed specials.
"The Try January campaign aims to challenge people to simply try something new," Willock continues.
"We think we can make January a month for discovering new favourite drinks and dishes and we also think the trade has a lot to offer its customers who are willing to challenge their taste buds."
Through a burst of well-timed marketing and advertising it is hoped that the campaign would prevent thousands of establishments up and down the country from seeing dire takings during the first month of the year.
As well as being a tool to keep revenues at an acceptable level, the organisers also see it as a chance for people to give something back to the community by offering different and limited edition 'Try January' options.
Share