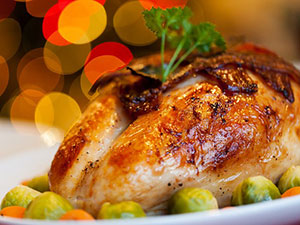 Christmas is just ten short days away and the nation's high streets are gradually getting filled with last-minute shoppers rushing through to find presents whilst navigating the masses.
But, from a gastronomic point of view, what would put a downer on this time of year?
According to a study commissioned by Unilever Food Solutions, the majority of people say that it just wouldn't be Christmas without the presence of a roast turkey.
In a Family Fortunes style situation, one thousand people were asked to complete the sentence 'It's not Christmas without….' and nearly sixty percent of those respondents replied with roast turkey. Christmas crackers came second.
Other popular responses included eye-rolling and groan inducing festive jokes and falling in front of the television, but, somewhat surprisingly, Brussels sprouts came in third. (Not that there's anything wrong with them by the way, it's just that they haven't found favour with this writer…yet.)
The poll also found out the perfect Christmas dinner which would consist of two slices of meat, two pigs in blankets, a heap of stuffing, three roast potatoes, two parsnips and five or more Brussels sprouts.
Interestingly, only a third of the people surveyed wanted a starter with their dinner. For those that do, a classic prawn cocktail topped the list with a soup coming in close behind.
Rather predictably, when it came to desserts it was Christmas pudding that topped the charts.
"[This] research uncovered some great findings about what people think makes the perfect Christmas dinner," explained Chris Brown of Unilever.
"Pubs that want to offer crowd pleasing Christmas menus should make sure they offer all the classics like turkey, roast potatoes, pigs in blankets and gravy."
So with Christmas approaching, are you catering to the masses or are you offering something new?
Share