Businesses that deal almost exclusively in food and drink could be at serious risk of serious food hygiene incidents according to New Food Magazine.
All it takes it one problem to snowball into legal issues and potential lawsuits, so if you're a caterer or food professional, you need to tighten up to avoid these hazards.
The dangers of cross-contamination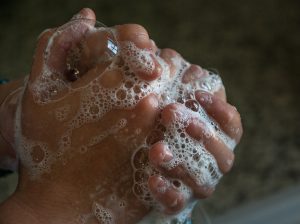 One of the biggest problems that we face as both consumers and food professionals is the very real threat posed by food cross-contamination.
In simple terms, this is the process of transferring bacteria or viruses from dirty or contaminated (usually poorly sanitised) surfaces or equipment and even other food to the food we are preparing or serving.
It doesn't just stop there, we can even cross-contaminate via cutlery, crockery but by far the biggest issue is ourselves.
Our hands are the main culprits for much of our food poisoning issues, as often poor hand cleaning procedures mean that nasty bacteria are quickly transferred between items that we touch and use.
Over 5.5 million people per year are struck down with a food-related illness in the UK each year according to the Food Standards Agency (FSA).
Many of these reported cases, and we stress that these are only the reported cases, could be almost irradicated if a proper food hygiene procedure is followed.
The main dangers
Two of the main culprits that present the biggest risk are the Campylobacter and Listeria.
The Campylobacter bacteria is found in contaminated poultry and illnesses as a result of contaminated poultry account for four in every five cases of this particular type of food poisoning.
It's not just chicken that poses a risk, you can pick up the bug from red meat, unpasteurised milk and even untreated water.
You don't even need a massive dosage to get sick, all it takes is a micro amount of both the food or the bacteria and you can be severely ill.
This isn't something to be blase about either, the Campylobacter bacteria is responsible for more than 100 deaths per year!
Prevention better than the cure
The importance of effective hand sanitation is therefore paramount to each and every customer we happen to deal with, of which the vast majority are working directly within the catering sector.
Real estimates of just how many staff are washing their hands after using the toilet can be hard to come by, but New Food Magazine found that some 39 per cent of staff that directly handle food do not wash their hands before returning from the toilet.
Whilst 53 per cent of the same group do not wash their hands prior to preparing or handling raw food.
Key steps to safe food handling
Identify areas where santisers and hand cleaners are needed.
Decide on a key method of hand hygiene with a secondary method to help catch any extra issues.
Ensure that all santising sprays, creams and gels are specially formulated for the food industry, and protect hands in a wide range of environments.
Accurate and prominent signs can help staff remember to follow accurate hygiene procedures.
The addition of disposable gloves introduces a further blockade against germs and bacteria.
Utilise high-quality cleansers and disinfectant procedures in-between cooking and food preparation tasks. A clean workspace can remove a large potential risk factor.
Ensure that staff are trained and prepared to follow all of the above procedures.
How can we help?
If you need to make your hygiene instructions and signage more prominent then our Hygiene Catering Pack could be an ideal addition to your food preparation and workspace areas.
We also offer specialist food handling clothing from coats to gloves, hair nets and hats. CS Catering are primed to help you keep your kitchen safe from germs and contamination despite the number of stumbling blocks that can occur if you don't quite know where to start.
Visit our dedicated Cleaning & Hygiene section to get a grip on all of your hygiene and cleaning procedures and get rid of these potentially damaging (and deadly) bacteria.
Share