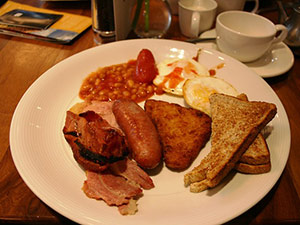 The tradition of the full English breakfast goes back centuries and the formation of this culinary staple can be attributed to the Victorians.
Though the meal's lineage can be traced back much further.
Once upon a time it was the landed gentry who saw an importance in being able showcase the fruits of their lands by commissioning their in-house chefs to create an assortment of dishes to wow guests and fill stomachs.
But, as that aristocracy began to wane the traditional large-scale breakfast became common place on the plates of all – no matter their social class.
Thus, as the English Breakfast Society (yes, one exits!) explained: "the English breakfast tradition spread until its peak in the early 1950s, when roughly half of the British popular started their day" with, what we'd call, a proper breakfast.
But, as with everything, icons of our culture can be slightly over done. No, we aren't talking about reaching 'peak something' and then realising that everything afterwards, no matter how better or improved, is just a sham; but the blatant fact that things just got a little bit ridiculous.
Like this 8,000 calorie full English breakfast called 'The Hibernator'.
We suspect that it would make anybody who ate it so full that they'd unwillingly balloon up and turn into a tomato-esque Violet Beauregarde.
And then burst at the seams.
The amusingly Bear Grills cafe of Congleton has come up with a mammoth breakfast that contains an absurd amount of food: Eight sausages, eight slices of back, four fried eggs, a four-egg cheese omelette, four black puddings, four waffles, four hash browns, eight pieces of toast (four normal, four fried), and dollops of beans, tomatoes and mushrooms go into this monstrosity.
If you do manage to plough through all that in an hour, and then slurp down a milkshake, you get rewarded with £100.
However all those who try have to sign a waiver form, just in case they feel any ill-effects from attempting to eat said 8,000 calorie plate.
"Younger guys come in, and it is all men who have tried the challenge, and they look at [it] and say: 'I am going to smash that'," said the cafe's owner Mark Winder.
Nobody has though, unsurprisingly.
There is one upside: You can get this monster meal for under £20. Maybe you could try splitting it with a bunch of friends? 
Share