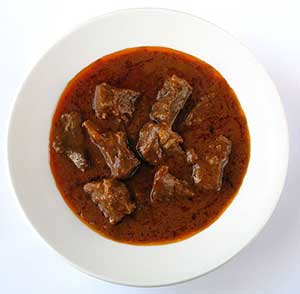 You may have seen our rather punny joke on social media today, and that contemporary witticism has set our taste buds tingling once again. So to rectify that we sent our resident vampiric entity to go in search of a traditional ghoulash (sorry, goulash) recipe that will keep your warm and full as the nights draw in.
It will also keep you off the brains too!
The first recorded reference of goulash can be dated all the way back to the 9th century and the Hungarian dish takes its name from the farmers that prepared the dish? In the Hungarian language "gulya" refers to a 'herd of cattle' and, subsequently, "gulyas" means 'herdsman'.
Goulash is such a versatile dish, something which we hold in high esteem when it comes to culinary concoctions.
Any type of meat – pork, chicken, rabbit or even pheasant – can be given the goulash treatment, but traditionally it was made with beef. After all, cows did play a part in the dish's etymology.
Ingredients
1kg chuck steak, diced
600ml water
400g chopped tomatoes
3 medium onions, chopped
3 garlic cloves, crushed
3 tsp hot, smoked paprika
3 peppers
2 tbsp tomato puree
2 bay leaves
1 tbsp 'standard' paprika
1 tbsp olive oil
1 beef stock cube
Sour cream
Method
Preheat the oven to 170°C
Season the chuck steak with salt and pepper
Heat the olive oil in a large casserole dish and then add the steak to brown.
Once browned, add the onions and cook for five minutes before putting the garlic in.
Sprinkle in both varieties of paprika, the stock cube, water, tomatoes and bay levels and begin to heat up until the liquid begins to simmer. Cover with a lid and transfer it to the oven and cook for 1 ½ hours.
After the ninety out of the oven chop your peppers and addthen (minus the core and seeds) into the goulash and cook for a further hour.
Serve with a dollop of sour cream
Share