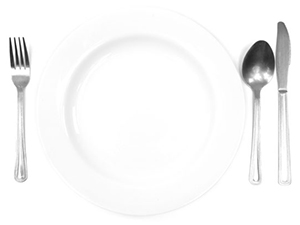 Here's a question for you: What do you do when preparing to make a big decision?
Are you a meticulous planner or a spontaneous doer? But importantly, what we really want to know is if you're one who snacks whilst mulling things over. If you are, new research suggests you're best doing your thinking, evaluating and concluding on an empty stomach.
A study, which has just gone online in the journal PLOS ONE indicates that people predominantly make better decisions if there has been an absence of food.
Sub-titled Hunger is Associated with Advantageous Decision Making, the Dutch-led investigation instructed participants to start a fast at 11pm.
Half of the group were given breakfast when reporting to duty the following morning whilst the other half were kept nil by mouth for the duration of the task.
Everybody then took part in the Iowa Gambling Task – a well-known procedure that is believed to accurately simulate real-life decision making. Once the results were collated the results indicated that it was those who were withheld performed better.
What is interesting is that it has been believed that the adverse was true – and a number of studies have provided supportive evidence.
However the authors of this new study, Denise de Ridder, Floor Kroese, Marieke Adriaanse and Catherine Evers, think that moderate hunger can, in fact, force people to subliminally rely on their intuition more than they normally would.
This would "benefit complex decision making with uncertain outcomes," they write.
Admittedly it is just one study and it does appear to go somewhat against the grain, but the results do make for interesting reading. And if you're continuously finding your decision making is better in the morning, you may just have found the science behind it.
Share