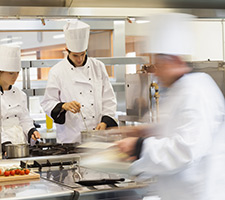 With new legislation coming into effect for the new academic year, many schools still do not have adequate facilities to cater for children entitled to meals.
New figures, released over the past couple of days, suggest that nearly 3,000 primary still are not ready.
More than 1,700 institutions do not have a functioning kitchen either.
These schools will either have to employ external caterers, and get the meals delivered, or use neighbouring amenities and transport items in themselves.
Some of the 152 local authorities that responded to the freedom of information request said that the funding allocation set aside by the government to make improvements was adequate, but others contested this assertion.
The amount of work that needs to be undertaken, inevitably, varies for each location. For example a spokesman for Leeds City Council said that they "will know the number of schools were work is needed within the next few weeks" and that improvements could range from a complete overhaul to sites where there might be "little to do."
Critics have said that this initiative has been pushed through without proper consideration.
Under the scheme all children in Reception, Year One and Year Two classes in state-funded schools in England will, from September, be entitled to a free school meal.
The School Food Plan recommended this enterprise after a trial period that took place in Islington and Durham. The findings were that those who had a free school meal were, generally, showed more of an academic improvement when compared to the implementation of the literacy hour in 1998.
It was also reported that many children became more adventurous in the eating habits as a result.
If you are on the look out to bolster up your kitchen ahead of September and are in need of some new items of catering equipment, ventilation systems or just extra storage shelves, crockery and cutlery, we can help.
Based near Leeds we have a showroom where many items are available to view under no obligation to purchase. Demonstrations can also be arranged.
Call us on 01977 687665 or e-mail [email protected]
Share