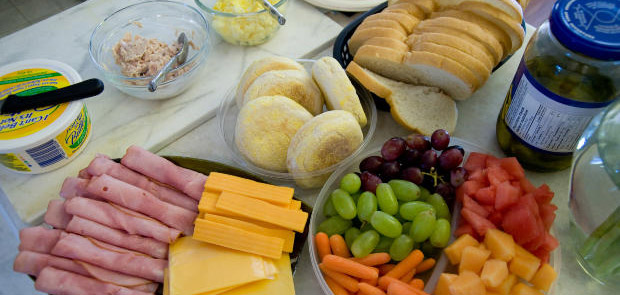 They've been back at school less than a month but the kids are doubtless already complaining of boredom when it comes to the contents of their lunchboxes or school dinners.
You can go down the tried and tested route of making sandwiches and salads in the shapes of faces or animals or you can go for something slightly more sophisticated that will nonetheless appeal to your children.
There's nothing unfamiliar in the following recipes to put them off, but they make a change from the usual ham, cheese and sliced white bread.
Chicken and tomato pitta pockets
2 mini pitta breads
1 tablespoon sour cream and chive dip
3 leaves of little gem lettuce, shredded
25g cooked roast chicken, sliced
2 cherry tomatoes, chopped
Use a toaster to warm the pittas so they are easy to split by inserting a knife into one side.
Spread the interior with the sour cream dip and then stuff the pockets with the remaining ingredients.
Tuna Pasta Salad (4 servings)
100g pasta animal shapes
1 red pepper, deseeded and finely diced
40g cheese, in small cubes
40g sweetcorn
50g frozen peas, defrosted
2 tablespoons plain fromage frais
1 tablespoon mayonnaise
Zest and juice of half a lemon
150g tuna, drained
Cook the pasta and set aside to cool in a large bowl.
Add the peppers, cheese, sweetcorn and peas and stir well to combine.
Then mix in the fromage frais, mayonnaise and the lemon juice and zest.
Finish by mixing in the tuna, keep in the fridge and serve in a small, lidded plastic tub.
Share