Easily one of the most anticipated food days in our office calendar, National Pizza Day celebrates all things pizza.
And because we are all closet Italians, we want to give you that little bit extra if you were thinking of investing in a quality Cuppone oven from our online catalogue.
A range of our most popular pizza-making accessories are available at 10% off the RRP with any qualifying Cuppone oven purchase.
We do our utmost to ensure we are one of the cheapest catering equipment suppliers on the market, with Cuppone being one of our most discounted brands available.
Our selection of pizza-making accessories are all designed to withstand usage in even the busiest of takeaway restaurants.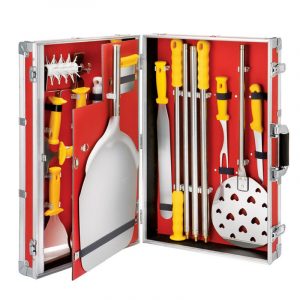 Like anything, if you invest in poor quality extras, you'll likely end up with poor quality results.
A cheap pizza paddle could easily break, bend and even melt (if made from plastic), a poor quality scraper might damage other utensils and even your pizza oven.
It stands to reason that you should really invest in options designed for high-usage environments that are built to last.
So should you be in the market for a brand new Cuppone pizza oven, then you'll be pleased to hear that we are offering this extra little icing on the cake.
If you want to know more about the day and get involved with the goings-on nationwide, then you should also check out the official National Pizza Day website, which allows you to sign up as a partner, giving your guests the ability to get a discount on their next pizza!
You can find the official National Pizza Day website here: www.nationalpizzaday.co.uk
Share