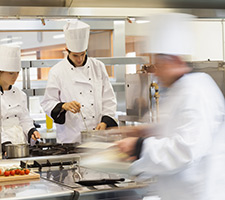 The exclusive Danish restaurant Noma picked the title of the World's Best Restaurant again during an annual award ceremony a couple of days ago. The victory marked the fourth time that the Copenhagen establishment had claimed the prize of being the best in the world, but is it?
Awards like this are always subjective and there it is no surprise that the event and announcement has polarised industry professionals and 'average punters' alike: some people, as the Guardian's Marina O'Loughlin states 'question how impartial judges have scored reservations at some of the world's hardest-to-book tables,' exclusive chefs whip themselves into a frenzy over nominations whilst the average person on the street will more like be preoccupied with the qualities of beans on toast rather than the latest concoction by Heston Blumenthal.
With that in mind, the list is still considered to be one of the highlights of the gastronomic calendar; it being comparable to birthdays, Christmas and New Year's all being rolled into one. In terms of public relations, being nominated on one of the many extensive lists (World, European, and Asian etc.) can bring in much needed publicity and kudos and can set up establishments for the next year.
Current victors Noma are an example of this. Before their first triumph in 2010 Rene Redzepi and company were virtually unknown outside of certain circles, almost overnight the phone started ringing and it hasn't stopped since.
Its success has even seen people bring into question the impact that the much-desired Michelin stars will have in the future. Has that mode of recognition been passed by?
But again, do people care?
Whilst it is an obsession for many, these lists fail to serve the majority of restaurant goers. After all, not everybody can hop off to Copenhagen, Modena or São Paulo for an evening meal. And to return to a point made earlier; the entire list is subjective. An exquisite serving of sea urchin and rock moss could be nirvana for one, whilst for somebody else only a Sunday roast will get the taste buds salivating. For one a high class eatery where you pay in the hundreds of pounds will attract some, whilst a transport café on the side of an A-road will similarly appeal to others.
The old phrase of different strokes for different folks comes to mind.
Share