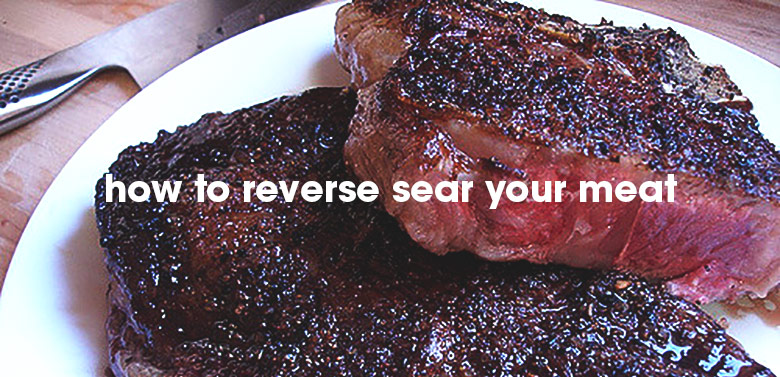 If you didn't already know, the reverse sear is often hailed as the ultimate way to cook the perfect medium or medium-rare steak every single time.
But you might not have heard of the reverse sear before, and it's not quite the same as simply cooking steak on a high heat.
The best thing is that this technique is not only simple, it's almost foolproof.
Traditionally the most common way a steak is cooked, is by searing over a high heat, and then transferring to your pre-heated oven and finished on a more gentle heat until done.
A reverse sear essentially flips the order around, having you gently heat until ready for searing before serving.
We won't disagree with @seriouseats – here's proof that: "The Reverse Sear Is the Best Way to Cook a Steak, Period" https://t.co/4hT8EpuOb5 pic.twitter.com/soMUgCgYHi

— Lake Geneva Meats (@lgmeats) March 15, 2017
The basic idea is that with the reverse sear, you have greater control over the Maillard Reaction (that magical process that turns the cooked edges of meats amazingly brown) because you're making sure the high heat only comes into play right at the end and that the steak inside will be perfect.
So, instead of an internal ring of different "doneness" your steak will be perfectly medium all the way through, save for the very outside.
We can't honestly recommend making rare steaks in this way, as just pan searing is about enough to get perfect rare steaks, but a reverse sear is probably the best and most consistent way to achieve a perfect medium/medium-rare throughout.
To get this spot-on you'll need a meat thermometer probe, and removing your steaks around 5ºF before reaching serving temperature will allow it to cook slightly as a result of residual heat during resting.
Here's a handy little guide on internal temperatures:
Rare – 125ºF
Medium-rare – 130ºF
Medium – 140ºF
Well done – 160ºF
You need a thermometer as the bog standard (and frankly inconsistent) palm pinch test is just not going to cut it here, plus if you're serving up steak using this method, then how are you shifting for inconsistencies where they might arise?
The reverse sear does take longer than other methods, but it does mean you can eat the steak nice and hot, as the resting period has been taken care of just before the actual searing of the meat.
Not only is this a completely foolproof method, it ensures that your quality cuts of meat are not tarnished or ruined if you are not quite confident enough to take on the skillet or pan without any prior knowledge.
With a little experimentation and some work on a rub, you can grill steaks to godly proportions. But if you're completely unsure from the advice given, follow the instructions below.
How to reverse sear a steak
Preheat your oven to 135ºC/275ºF.
Place well-seasoned steaks on a rack over a baking tray (cover the tray with foil to save yourself a clean up)
Put steaks into your oven and cook until an internal temperature of 125-135ºF has been reached (using internal thermometer) depending on your preference of "doneness". Usually this takes around 45-60 minutes.
Remove when at the correct temperature and allow your steak to rest for 10-15 minutes under a foil wrapping to prevent contamination.
Preheat a skillet or heavy based pan to screamingly hot temperatures, if using a barbecue or grill preheat accordingly.
Sear steaks for one minute on each side.
Remove from grill or pan and serve immediately.
Share