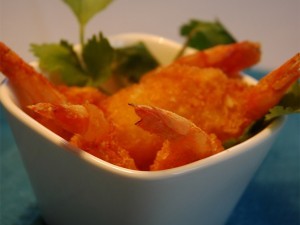 There aren't many things more comforting than some pub grub, but forget the outdated images you might have – the pub meals of today are generally very sophisticated, modern and fully abreast of all the major food trends.
Try this take on a tried and tested traditional favourite, the good old-fashioned scampi and chips.
This recipe should serve four people, or three if you're especially generous:
Ingredients
700g potatoes, peeled and cut into fat chip shapes
3 tablespoons olive oil
20 langoustine tales, peeled, washed and veins removed
30g plain flour
Pinch of cayenne pepper
1 egg
75g fresh breadcrumbs
Sunflower oil for frying
Salt
Pepper
Method
Preheat the oven to 220 degrees centigrade
Put the chipped potatoes into a saucepan of salted cold water.
Bring to boil and simmer for five minutes.
In the meantime, heat two tablespoons of the olive oil in a roasting tray in the oven.
Drain the potatoes, then add them to the roasting tray and coat them in the hot oil.
Add the seasoning and then then roast in the oven, turning regularly. They should be in there for about 40 minutes, or until crisp and golden.
While the chips are cooking, prepare the scampi by mixing the flour with salt, black pepper and Cayenne pepper in one bowl.
Beat the egg in a second bowl and add the breadcrumbs to a third bowl to make a production line.
Dust each langoustine tail in the seasoned flour, dip into the egg then cover in the breadcrumbs.
Heat the frying oil to 180C in a large pan a piece of bread dropped into the oil should fizzle and turn golden brown within two minutes.
Carefully add each scampi and cook for 2-3 minutes you'll need to do this in batches.
Drain on kitchen roll before serving with the chips plus some lemon wedges and homemade tartar sauce.
Share