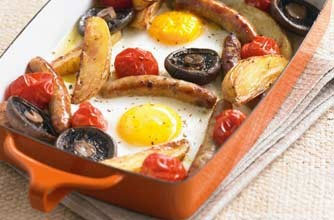 A hearty, healthy breakfast is supposed to prime your body and set you up for the day.
Make a change from the cornflakes or fry up with these delicious options.
Full English in the Oven
Serves 4
1 red onion, quartered
4 good quality sausages, cut into 3cm pieces
4 rashers of bacon
Handful of cherry tomatoes
Handful of mushrooms, halved
Handful of new potatoes, halved and parboiled
4 eggs
Preheat the oven to 180°C and drizzle some oil in the bottom of a large roasting tin.
Add all the ingredients except the tomatoes and eggs to the tin and season.
Roast for about 25 minutes, then give everything a good stir and add the tomatoes.
After another 10 minutes, make 4 spaces in the bottom of the tin and crack an egg into each space.
Roast for another 10 minutes.
All the flavours of a full English with no frying and only one pan to wash!
Honey Oat & Rhubarb Muesli
Serves 4
Add 50g of oats and 50g of mixed seeds to a bowl and mix in 2-3 tablespoons of honey.
Spread the mixture onto a non-stick baking tray and give it about 15 minutes in the oven at about 1800C, stirring halfway through, until golden-brown but still soft.
Meanwhile take 50g of chopped, fresh or frozen rhubarb and gently heat in a pan with a tablespoon of caster sugar, until soft.
Break up the cooked oats, serve in bowls and top with grated apple.
Add some of the rhubarb mixture and a good dollop of natural yoghurt.
Colourful, delicious and super healthy!
Share