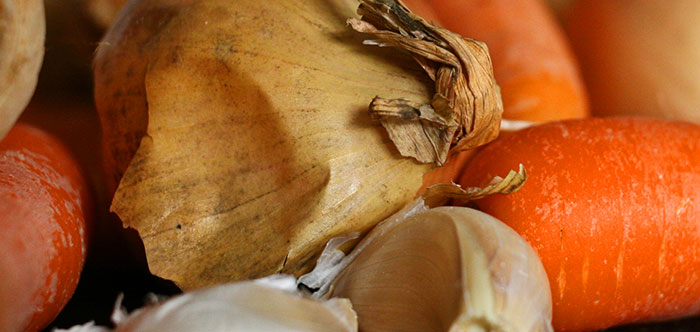 A base for countless dishes, and the key component in so many of our favourite meals, yet without a doubt the stock is often one of the most overlooked key areas you can save time and money in your kitchen.
The problem is that it's just so easy to buy a packet in the supermarket, yet home-made stocks add an unmistakable depth of flavour to your cooking, either vegetable, meat, chicken or fish.
Almost all stocks are made in the same basic method, which is by cooking up bones or fish trimmings along with vegetables and herbs.
Quick Tip: Try to avoid more strongly flavoured vegetables such as cabbage, or turnip, or those such as potatoes that tend to disintegrate as the result can be a mushy mess.
Even just as a money saving exercise, it makes sense to cook up stock in batches and freeze for later usage in your dishes. Time-saved is a huge benefit if you're already stretching your resources thinly with intricate dishes and require fast service.
You'll need some bones or trimmings get started, but if you are lacking the means to do this at home, you can always ask your butcher or fishmonger for bones and trimmings.
Making stock
Ingredients
So, what are the base requirements for making a great quality stock? The foundation ingredients for about a litre of stock are:
1 onion, sliced
2 celery sticks, sliced
2 carrots, sliced
A selection of herbs such as a bouquet garni, plus peppercorns and some salt
About a kilo of meat or chicken bones or fish trimmings
Method
The method is the same for all stock and is almost effortlessly simple…almost: add cold water and bring the pot to the boil, then simmer for varying amounts of time.
Prepare ingredients
Add to pot of cold water
Season with salt and pepper
Bring mixture to the boil before reducing to a simmer
For fish stock this means one litre of water and 30 minutes cooking time, for chicken add two litres of water and cook for two hours, while meat will need two litres of water and a good four hours of simmering after the bones are roasted.
Try to aim for about equal amounts of bones and meat for the best flavour.
Add further seasoning or herbs to your taste
Allow to simmer and reduce until rich.
After cooking, strain stock through a sieve or muslin and cool quickly.
If you want to save your stock for later usage or freezing, simply allow it to cool before placing into a freezer safe container.
Most stock will be safe for freezer storage for up to 6 months, remember to defrost thoroughly before using as the base for your future recipes.
Share