The crepe has been around since the 12th Century, originating in Brittany, north-west France. It is now a cultural icon of France, with every main street featuring a local creperie – ready to produce tasty and super-thin pancakes in both sweet and savoury variations.
They can be found everywhere, and sometimes plain with a dusting of sugar, other times bursting with Nutella from within the crispy batter surface (other brands of hazelnut-chocolate spread are available).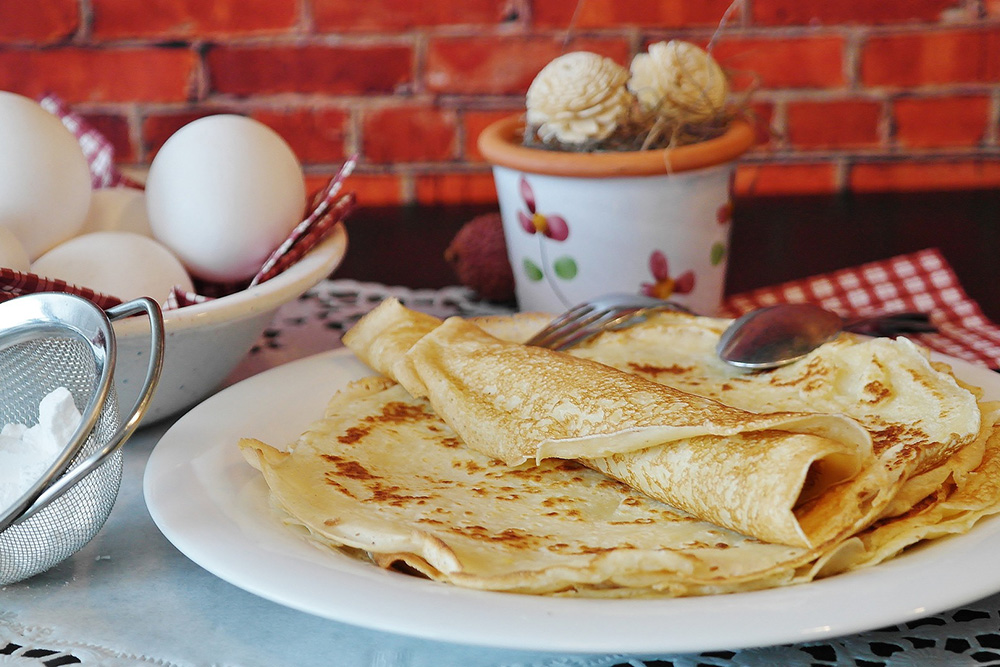 Bretons (a Celtic ethnic group located in the region of Brittany in France) created crepes using fibre rich, high protein grain. Then they would grind it down and combine it with water and a touch of salt to create a batter. With a layer of butter on a hot surface, the batter was spread with a wooden scraper into a flat, round shape, then flipped, folded and filled with a fresh filling. They are still usually produced using this method today.
Get Started
Preparation
For a crepe, you need five simple ingredients: eggs, milk, flour, butter and salt. It is possible to whisk the ingredients together by hand, however, perfect crepes – a blender is recommended. You could use a traditional blender, however a stick blender may be a good choice for this sort of quick turnaround product. The consistency of the batter is the main factor behind tasty Crepes. They should be slightly thinner than heavy cream, with no lumps. Add sugar and vanilla to the mixture for a sweet crepe; or chopped herbs or grated Parmesan work as a savoury direction.
Let the mixture rest
Allow the batter to rest for at least 30 minutes, it ensures the batter has absorbed all of the liquid, and is a key ingredient in ensuring you have THE perfect  crepes. You could also leave the mixture refrigerated for up to 2 days, to get similar results.
Give the batter a stir
Before cooking, if the mixture seems too thick, gently whisk in milk, a tablespoon at a time, until it's thinned to the right consistency.
Crepe Pan, Frying Pan or Crepe Maker?
Using a crepe pan is ideal for cooking the perfect crepes because the short sides of the pan make the crepes easy to flip over. The heavy bottom ensures even, consistent cooking. If you dont have a crepe pan specifically, you can use a medium non-stick or well seasoned cast-iron frying pan.
Alternatively, specialist crepe makers are available, that are the best of both worlds and allow you to get consistent results with your crepes.
A medium, even heat
Set the heat to medium, allow the pan time to get heated to an average, even temperature. Depending on your equipment, you may need to lower the heat if the pan starts to get too hot.
Butter is key
You butter believe it, butter is the best way to cook crepes, as it's great at stopping the crepes from sticking, as well as adding a lovely taste to them – just be sure not to add too much.
Crepe cooking technique
Once you've poured your mixture onto the heated pan, lift it and use your wrist to tilt the pan in each direction, to ensure the mixture is spread evenly around the heating surface.
Release the crepe!
When the crepe is dry on top, and starts to release from the pan, it's time to flip! Use a rubber spatula to peel an edge, then use your fingers to pinch an edge and flip the crepe over. Just be careful to avoid your fingers touching the pan itself. Ideally you want the bottom to end up golden brown when complete.
Crepes complete
When they're ready, use your spatula to move the crepe onto a plate or baking tray, and cover with paper towels, to keep them warm until you're ready to fill them.
Practice makes perfect
Don't expect your first crepe to be picture perfect – it takes practice to get used to the art of making the perfect crepe. Keep trying!
Give it a try – Crepes are delcious and can be eaten both as a sweet treat or a savoury dish.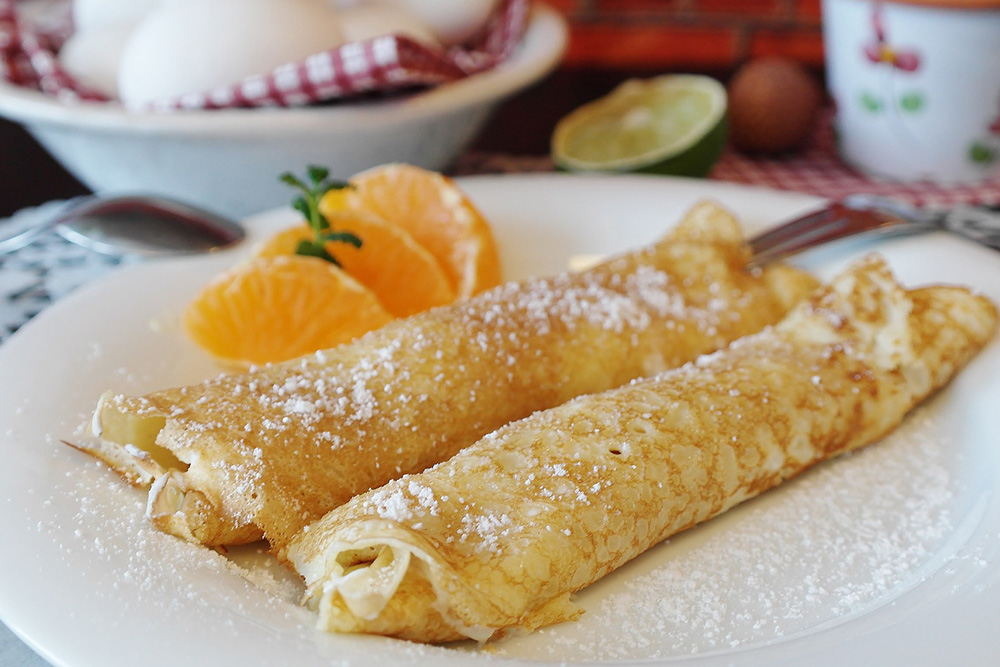 Share