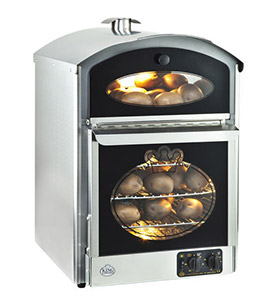 The King Edward Bake-King is one of the best value for money purchases available today.
This extra large oven has a huge capacity and can cook 120 potatoes at once.
Offering complete reliability, high performance and style, this oven comes at a very affordable price.
This piece of catering equipment is designed and manufactured within the UK and uses convection technology, which provides the highest efficiency and performance.
The King Edward Bake-King is a very easy oven to use and no training or specialist skills are necessary in order to use it.
It's ideal not only for cooking potatoes, but also breads, pies, pastries and other dishes.
This oven has some great features which make operating it in a busy environment quick and simple.
It's a convection oven and is fan assisted for exceptionally even and thorough cooking.
This oven is also suitable for both counter top and back bar cooking, so no matter what kind of business you run, whether it's a restaurant, small cafe or a mobile catering company, you can use this high quality oven.
The Bake-King can hold 60 potatoes in its central oven and another 60 inside the display area of the equipment.
It can cook 60 potatoes in just under 50 minutes.
With a removable tray for crumbs and a choice of stainless steel or a black coated finish, this oven is very easy to clean and has a sleek, stylish look which will blend in with any kind of kitchen decor.
Share