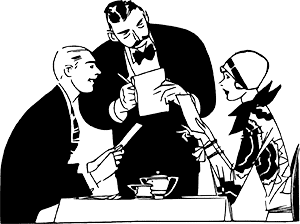 There are two important days this week that many establishments within the foodservice and catering industries will be celebrating. Tomorrow is Tax equality day – something which we've already mentioned on the blog – and then on Thursday those on the front line get their day in the sun as part of National Waiters Day 2014.
The day is designed to celebrate the vital front of house staff positioned across the entire hospitality sector; from waiters to mixologists, right through to baristas.
"The idea behind National Waiters Day is to bring a spotlight to the hospitality industry and showcase what a great range of exciting careers the [sector] has to offer," Fred Sirieix, the coordinator of the event said.
During the day a number of venues across the British Isles will be hosting waiting themed events, some of which will be open to the general public to join in.
One such gathering will be in London's Hyde Park where participants will be able to show off their elegance alongside their professional abilities – not to mention a competitive streak – as they take part in a 'Waiter Race'. Those taking part have to get from A to B as quick as possible whilst carrying a tray with a bottle on it in the traditional manner.
Other events in the capital include a number of hands-on activities and demonstrations organised by certain commercial sponsors and partners.
"There has never been a more exciting time to join the hospitality industry. There are opportunities everywhere for those who want them and who are prepared to do what it takes."
All proceeds raised from this day-long event will be donated to the charity Springboard that helps teach schoolchildren many practical skills, a number of which can be transferred into front of house service roles.
Importantly, though Sirieix signed off by adding: "We'll also be having a lot of fun in the process!"
---

Don't forget that CS Catering Equipment sells a great range of front of house uniforms for all your mixologists, barista and waiting staff – as well as chefs! – online. Free delivery on orders over £75
Share