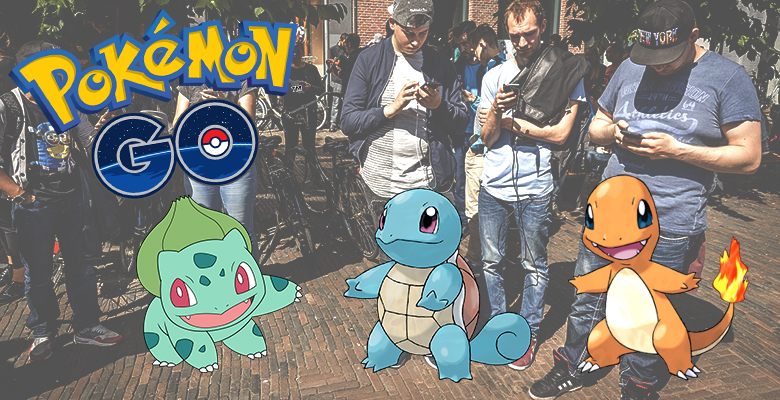 The world has gone exceptionally crazy for the Pocket Monsters or as they are more commonly known, Pokémon.
For those that don't know, this is not a 'craze', Pokémon (or the game) has been around for the past 2 decades worldwide. But with the release of a smartphone application, the Nintendo owned game is now truly mobile.
But with people using their smartphones to traverse the real world in search of virtual beasts, there are some interesting opportunities to increase business footfall…
This phenomenon has not happened overnight, Pokémon is a huge international brand and has been played on almost every Nintendo device available since 1995.
But this is one of the first attempts at bringing a full-fledged Pokémon-catching game to the smartphone using masses.
To play one must register as a 'trainer' and then once you have done so, the world of Pokémon awaits, with the application using geo-location to create virtual locations on a Google map style interface.
Pokémon GO is now available in Canada! Discover and capture Pokémon all around you. pic.twitter.com/uTXwIk85IZ

— Pokémon GO (@PokemonGoApp) July 17, 2016
You may have seen on media outlets masses of 'players' gathering in parks, outside shops and other locations, and you're wondering how does this affect me? Well the game allows for locations to registered as Gyms, where players have to travel to to compete or challenge a 'Gym Leader'.
Defeating this fellow player crowns them as the next leader, with others coming to challenge them, and so on and so forth.
Unfortunately it is unknown how the developers of the game decide what location is chosen as a gym, and so this is not exactly going to be a great way to drum up more business unless you are in a lucky location.
Luring in the customers
This is where Lures come in.
Whilst Pokémon Go is a free to play game, there are options for players to spend real world currency on in-game items. Mostly to speed up progress.
Niantic, the developers of the game, added an option to help players catch more Pokémon, known as a Lure.
But what players of the game didn't realise was that a Lure is also a great way to attract other players of the game!
Again, you are probably wondering 'how does this information help me?'
This bar actually gave us 10% off our meal & drinks cause we were LvL 5 😂! #PokemonGO pic.twitter.com/VQcDawwUh8

— Mr. Syndicate (@ProSyndicate) July 15, 2016
Well here goes…if you are a 'clever' or 'enterprising' business, this is an exceptional way to increase foot-fall to your business for the sake of a few pounds.
1 Lure will set you back 85 in-game coins, otherwise known as Pokecoins, and last 30 minutes.
Therefore putting the cost of a Lure at 170 Pokecoins for an hour.
In-game purchases for Pokecoins can range, with the value of a coin therefore varying. To get the best value per coin you'll have to buy 14500 Pokecoins at £79.99.
This then works out at 95p per hour to use Lure.
Or on a busy day, 12 hours would cost £11.40.
If you've got a business on a busy high-street or even in a lovely seaside town, this could be an excellent way to invest a little cash and get people talking about your business.
We also recommend tapping into this large and growing community, with over 13.5 million worldwide players, this is the fastest growing mobile phone application of the past 5 years.
We've given you the information, and as Professor Oak once said: "Your very own Pokémon legend is about to unfold! A world of dreams and adventures with Pokémon awaits! Let's go!"
Share