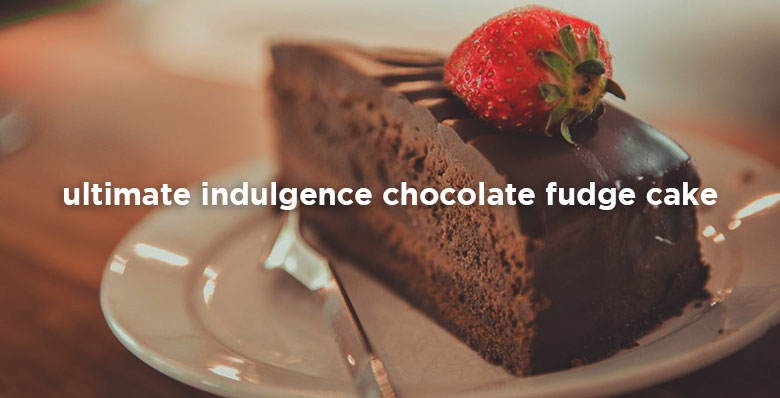 There is nothing more decadent than a rich, gooey chocolate fudge cake, and this is one of the best chocolate fudge cake recipes that you are likely to encounter!
With a rich chocolate ganache topping and gooey centre, we are sure that this will become a firm favourite in your baking repetoire!
Make sure you use good quality chocolate for this recipe, with at least 70% cocoa solids, as this will affect the quality of the cake produced.
The main event is the cake itself, and when baking a cake timing is everything.
But we're sure that your baking skills will be up to the challenge to take on this incredibly indulgent dessert.
Cake ingredients:
200g plain chocolate, chopped
200g butter, cubed
100ml water
125g self-raising flour, sifted
125g plain flour, sifted
25g cocoa powder
200g golden caster sugar
200g light muscovado sugar
3 eggs
75ml creme fraiche
Method
Preheat the oven to 170ºC and grease and line two 20cm cake tins.
Melt the chocolate, butter and water together in a bain-marie or pan until smooth.
Leave to cool slightly whilst adding the flours, cocoa powder and the two sugars to a bowl and mixing together.
In a separate bowl, beat together the eggs and creme fraiche, followed by the chocolate mixture, then fold in the flour mixture until smooth.
Divide the batter between the two tins and bake for 35-40 minutes.
Allow the cake to cool completely on a cooling rack before adding the filling and topping.
Making the filling can be done whilst the cake is cooling, for perfect timing.
Filling ingredients:
50g plain chocolate, chopped
100g butter, softened
200g icing sugar
1 teaspoon vanilla extract
Method
Melt the chocolate in a bain-marie or a microwave for several minutes.
Beat the butter and icing sugar until light and fluffy then add the vanilla and fold in the melted chocolate.
Spread the filling generously over one of the chocolate cakes then top carefully with the other.
Now for the pièce de résistance, the ganache topping which helps make this chocolate fudge cake into one of the finest we have ever had the pleasure of tasting.
Ganache topping ingredients:
150ml double cream
1 teaspoon vanilla extract
1 teaspoon butter
150g plain chocolate, chopped
2/3 strawberries (optional)
Method
Heat the cream, vanilla, butter and chocolate in a heavy-based pan, then whisk until smooth and thickened.
Spread generously on top of the cake it's okay if it drizzles over the edge a little.
Garnish with chocolate shavings and add a strawberry to the top should you wish.
Serving
Although this chocolate cake is so good it doesn't need to be accompanied with anything else, the addition of vanilla ice cream, pouring cream, whipped cream or even custard will add an extra layer of comfort to one of the richest and most indulgent additions to your dessert menu.
Share