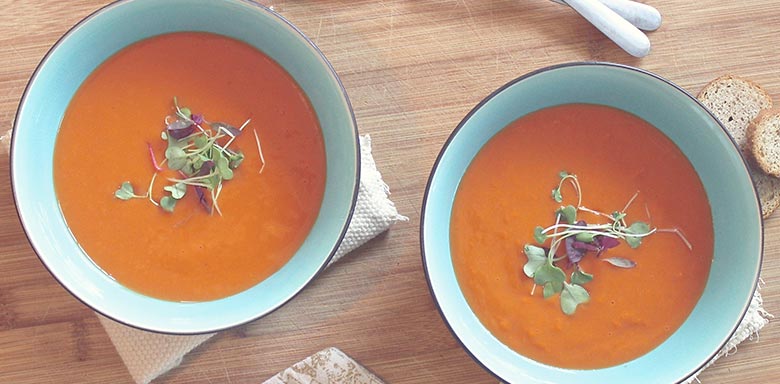 One of the biggest crying shames we face as a nation that is slowly embracing the somewhat typically American Halloween traditions – is the waste of good quality pumpkins.
Relegated to simply becoming husks for the sake of horror-based mood lighting, the seasonal staple can be turned into a warming dish too!
Pumpkin soup uses up that often thrown away innards of the orange coloured vegetable (although it's technically a fruit!).
It's really easy to whip up Pumpkin Soup, and you can freeze it for up to 3 months, so don't worry if you make too much for one sitting.
Our recipe makes a silky smooth solution that tastes superb.
You'll need
For the soup
2 tbsp olive oil
2 finely chopped onions]
1kg pumpkin deseeded and chopped into chunks (keep the seeds aside for later)
700ml vegetable stock or chicken stock
150ml double cream
Coriander
For the croutons
2 tbsp olive oil
4 slices of wholemeal seeded bread with crusts removed
Pumpkin seeds (pre-roasted)
Method
Heat the olive oil in a large saucepan, then gently cook the onions for 5 mins, until soft but not coloured.
Add the pumpkin or squash to the pan, then carry on cooking for 8-10 mins, stirring occasionally until it starts to soften and turn golden.
Pour the stock into the pan and season with salt and pepper. Bring to the boil, then simmer for 10 mins until the squash is very soft.
Pour the double cream into the pan, bring back to the boil, then purée with a blender. For an extra-velvety consistency, you can pour the soup through a fine sieve. The soup can now be frozen for up to 3 months.
To make the croutons: cut the bread into small squares. Heat the olive oil in a frying pan, then fry the bread until it starts to become crisp. Add a handful of pumpkin seeds to the pan, then cook for a few mins more until they are toasted. We recommend making your own roasted pumpkin seeds as they taste that much better and save you money!
Reheat the soup if needed, taste for seasoning, then serve scattered with croutons, seeds, coriander and drizzled with more olive oil, as you deem necessary.
Add a dollop of cream for that real 'Instagram-friendly' food picture too .
Much more healthy and filling than a bucketful of sugar-laden snacks!
A great option for a proper Happy Halloween and it cuts down on that pesky waste fruit and veg.
Share