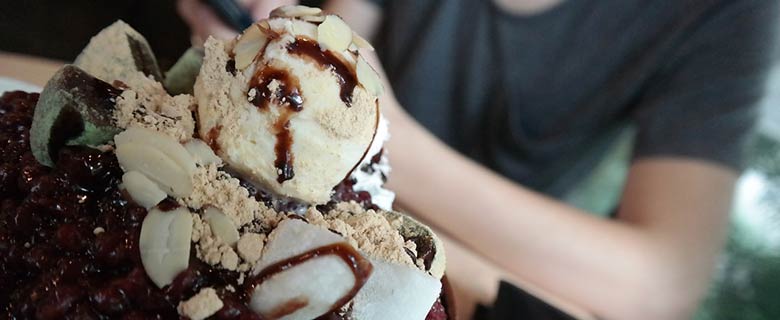 There were plenty of moments when I thought about diving behind the sofa last night during The Great British Bake Off, but nothing terrified us more than when Alvin and Ugne had some rather messy moments when making their ice cream.
Jam inside ice cream and toxic coloured desserts? It'll never catch on.
I screamed. Did you scream?
Luckily though, you don't need to experiment and transform yourself into a madcap scientist in order to make some pretty good ice cream.
The simple dessert, which remains a popular menu item whatever the season, can trace its roots back to around 400BC. In essence, not much has changed over the years, though ice cream does have a wonderful habit of reinventing itself and finding itself in some rather wonderful culinary situations.
And with the British ice cream industry pulling in around £1bn per year, it represents big business and healthy profits for restaurateurs and caterers alike!
Regardless of the flavours you wish to serve up – and we've seen some pretty weird ones in our time – you'll need an ice cream machine and a bunch of accessories to help you on your way. So with that in mind, let's take a look at some of the most popular items from our range.
Gelato 6K
Nemox Gelato 6K CREA
The is the premier model from Nemox's world-renowned range of ice cream machines.
Manufactured in Italy, this machine is an all-in-one, versatile unit that is capable of producing four different styles of the dessert, ranging for semi-soft ice creams through granitas.
The machine also has a stainless steel inner bowl, removable scrapers and a variable speed blade.
Buffalo DM067
At the other end of the spectrum is the DM067, a wonderfully versatile and economical unit that has a bunch of practical features.
With its non-stick removable bowl, clear LED displays and robust stainless steel design, we feel it's ideal for smaller outlets who want to capitalise on the ice cream craze but don't see it being a 'main' seller for large parts of the year.
Roller Grill Waffle Iron
Did you know that the ice cream cone is closely related to the waffle?
Roller Grill manufacturers a number of high quality ice cream waffle irons which will allow you to create your own in-house cones quickly and easily.
The Roller GES40 is a popular choice for establishments of all sizes.
Zeroll Ice Cream Scoops
Zeroll is widely accredited with the creation of the forerunner to what we'd class as the traditional ice cream scoop.
Designed in 1933, the American company has remained at the forefront of the sector yet that classic design hasn't altered a bit.
Share